This is a placeholder topic for "Makerverse USB-C LiPo Charger" comments.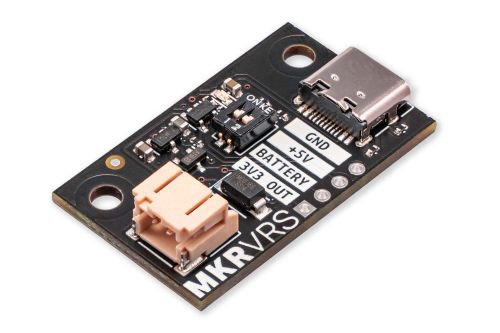 A battery charger with selectable charge currents and USB-C!
Read more
Thank you. For making these products, at some point in my maker journey, I will use this. (Likely many times.)
Hi, I ordered and received three of these. First one I tried, plugged into a 6600mAh LiPo I bought from you with the charger did not seem to work. I put my USB current/voltage meter in path and it showed a nice 5.1-5.2v but only a 1-2 mA. No lights came on on the charger.
I tried a 2nd charger and all good, I could see it was drawing about 400mA (I had the charger switches set for 500mA mode).
I moved back to the 1st charger, tried it with switches set back to 50mA, still no go.
Is there anything else I should try or does it just sound like a faulty one?
Thanks,
PJ
Welcome back PJ!
Would it be possible to send through a couple of photos of how you had everything set up, both in testing and normal charging?
We'll get your projects back on track ASAP!
Liam
Hi Liam,
For sure, here it is with the working charger…

Does this LiPo charger have overcharge protection/does it lower the charge current when the battery is fully charged?
The datasheet for the IC used to charge the battery includes the comment "When the float voltage is reached and the charging current drops to 1/10 of the set circuit, the LTH7R automatically terminates
charging process." The voltage is factory set to 4.2V.
Great thanks. You don't have a link to an English data sheet do you? Before posing my question I did some searching and was only able to turn up data sheets in Chinese.
Hi Core team.
These seem to be working well.
One thing I can't work out from the documentation: Which way are 1 and 0 on the charging current selection switches?
Is 0 up towards the ONKE text, or down towards the 1 2 labels?
Thanks very much.
Hi, these don't appear to be standards compliant - they work fine on a type A to type C cable but attempting to run them off of a type C port directly just fails. As far as I can tell this would be caused by failure to include the appropriate resistors on the board to trigger type C chargers.
Hey, just to clarify, after posting that review a bit more troubleshooting and investigation revealed that the product in question should have those resistors fitted but instead my units were faulty, one in a way that caused it to work on type A chargers as the resistors weren't correctly soldered to the connector but everything else was.
Hi Clancy,
Are you able to share some close-ups of your board? If we're able to confirm the missing components, we'll make things right with a store credit, and pass this on to our production team to make sure it doesn't happen again.
Keen to get your project back on track!
No need to worry Graham, I'm already in touch with support, thanks for the offer though!
Sorry James, didn't see the sender had changed
Just to follow up should it be useful to others I looked at the hardware repo some more and I think I was able to find the part/datasheet:
Is there a way to read battery level using this and a microcontroller?
Could I note some of the missing/unanswered documentation points?
LTC4054 is equivalent to the LTH7R charger IC. English datasheet here [https://www.sunrom.com/download/423.pdf]
LED is ON when charging. OFF when completed.
Switch position '1' (on) is towards the USB C connector.
Hi Claire,
A quick setup could use your onboard ADC (Provided you are using a Pico or similar board with maximum ~3.3V pins).
(Where the ground pin would be the top, GND connection).
Liam
Is the Makerverse USB-C LiPo Charger suitable for charging a Polymer Lithium Ion Battery (LiPo) 18650 Cell (3.7V 2600mAh)