My name is Geoffrey Benton, aka Doonie. I am a maker and for several years I've been designing and building a tower crane. The purpose of this project is to extend my knowledge and learning. To this point, the crane has been built using Cut2D Laser Desktop 8 as a drawing program, a Darkly Labs Core laser cutter, Fusion 360 as a 3D design platform and a MakerBot 3D printer. I taught myself to use this equipment but have had assistance from some amazing friends.
In order to make the crane function my learning has now entered a new phase. I am currently studying Arduino basics with Peter Dalmaris and have searched the internet for information to help me.
I've made a short movie and uploaded it to youTube.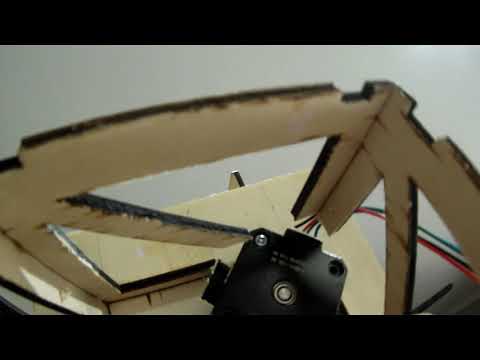 The first part shows the initial module I designed, which was used for the weight trolley boom and the crane trolley boom. I increased the size of the module, using it for the tower stack. Next in the video is a picture of the final design of the tower crane and some video footage of the crane as it is now. Finally, the Nema stepper motor position and a visual of how the swivel mechanism functions are shown.
In order to move the crane to the next level, I need to learn how to control a Nema 17 stepper motor with Arduino. The motor I have is a Motech MT-170HS120A 1.8 dg step 170725. I also have an Arduino Uno board and a CNC shield.
In the future, I plan to power everything above the swivel mechanism with batteries, probably lipo 7.4 volt, and hopefully to bluetooth the information to it.
My first challenge is the swivel stepper motor which will be powered from below, probably with a test bench power source.
From this forum I hope to learn:
What is a good, reasonably priced test bench variable power source for below 15 volts?
What equipment do I need to get the swivel working on my crane, other than what I have? I want to swivel the boom a bit more than 360 degrees. I'd also like to make it turn either left or right and stop at a given number of degrees, and easily change the parameters.
Finally, I need some advice on sketches to make this whole thing happen.
Thank you for taking the time to read this.
Doonie